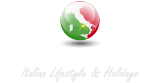 About us
Young and dynamic incoming tour operator, our agency was born with the desire to promote the region of Campania and its splendid islands, such as Ischia, Capri, Procida, Vivara, Ponza and Ventotene amongst others.

Our origins are in Ischia, Naples is our town and our adventure starts from here !

We suggest and realize a large range of products and packages, in order to satisfy the desire of our most demanding customers. We realize your dreams of stays in historical houses and spas, of a trip on helicopter or a simple trek in mountain, and also renting a sports car and getting transferred with a limousine, guided tours with personal assistant, exclusive restaurants and even more.

For every destination, we offer you a selection of hotels, trips, transfer services and assistance during your stay.

Our goal is to offer you a unique travelling experience, with itineraries and personalized services.